Rolling Strong Welcomes Landstar BCOs
Free Trial Of New App
Rolling Strong's mission is to give you, the professional driver, the tools to get healthy, stay healthy and get home safe to your loved ones. We are inviting you to try out our new wellness mobile app for free until May 1st. Our app and CDL Wellness Coaches will provide you the tools and building blocks to improve your health and combat many of the common health risks of the driver profession.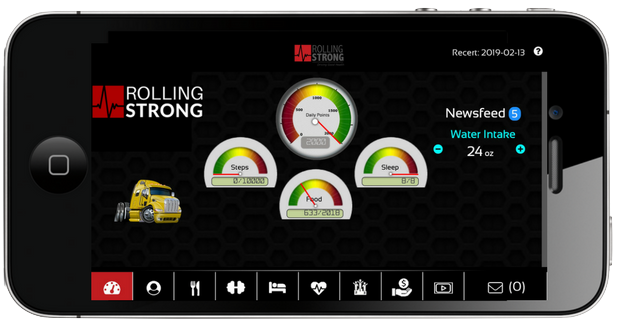 Simply Sign Up Using The Form Below
Type "Landstar" as the company name, just so we can provide to you the free trial. Please provide an email and mobile number to receive the registration invite directly from Rolling Strong. You will receive the invite by both email and text, select one method to complete your registration to download the app.
Check out our testimonial page from drivers just like you! – Driver Testimonials

App Features
Nutrition
Food log
Personal calorie target calculation
Predictive meal suggestions and location GPS
Search meals, foods, restaurants
Scan snacks/meal barcode for nutrition macros
ALK map to truck friendly locations
Exercise
Exercise log
In app guided exercise routines
Wearable activity tracker integration
Sleep
Sleep log
C-pap data integration
Wearable device integration
Health Record
Confidential
New/historical biometric health assessments
Health check station integration

DOT Readiness
DOT certification reminders
DOT health coaching
In app wellness coaching
Health Education
In app health articles, podcast and videos
Social
In app friending
In app competitions
In app messaging
Receive points for healthy lifestyle actions
Points based rewards
Health challenges
Remote Wellness Coaching
DOT Recert prep
Weight loss, nutrition, exercise
Biometric Assessment education

If you have trouble, please call 913-551-0106