Enrique Robles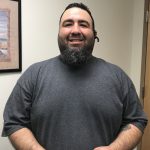 Enrique has lost six pounds since February by making two simple changes to his daily routine.  On his 30-minute break he walks for 15 minutes, in addition to increasing his water intake.  These small changes have helped him drop weight and feel better.  Keep up the great work!
Carlos Murillo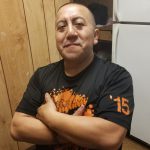 "I've lost 3 lbs. since February by increasing exercise, eating more fruits and vegetables, and drinking water every day.  Exercise makes me happier, and I don't feel stressed anymore.  The Rolling Strong Health Check every week keeps me focused."
Brenda Johnson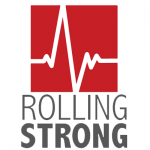 "I've been with a Rolling Strong CDL Wellness Coach telephonically since October of 2016.  Since then, I have lost 47 pounds and 33.25 inches overall.  I'm amazed with my progress in weight loss, but more so with how much better I'm feeling.  Having a coach to talk to whenever I need makes all the difference.  I have tried before on my own and failed so many times, but now I'm on my way to a better lifestyle.  This program is working for me, and I'm looking forward to more weight loss and better fitness."
Talon Lefler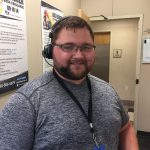 Since meeting with his Rolling Strong coach 6 weeks ago, Talon has been drinking more water, practicing proper portion control, walking more, and using his FIT System. Talon has lost 12 pounds so far and is focused on his goal of losing another 60 pounds.
Cliff Vergile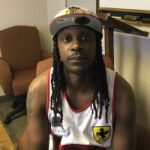 "Our Rolling Strong Coach was helpful in giving me health and wellness advice during Greyhound Driving School. I found the breathing advice helpful. I set wellness goals to change my eating and daily habits. I don't usually watch what I eat and consume, I realize I need to be more mindful of that. Coach Norie opened my eyes to a lot. I have been told before about my bad habits but Norie helped me realize the reality of it all."
Jeannie Almond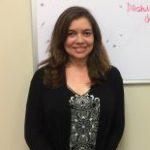 Jeannie has lowered her blood pressure: systolic down 39 points and diastolic down 14 points. She achieved this success by decreasing her sodium intake, began drinking more water, eating healthy snacks such as walnuts along with meeting weekly with a Rolling Strong Coach.
David Lopez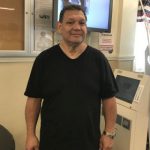 100 pound weight loss while driving out on the road!! David Lopez IS Rolling Strong while out on the road. He wants drivers to know it can be done while driving with consistency and lifestyle changes that you can adhere to day in and day out! First, David figured what his daily calorie intake should be. He made some changes to his diet which included cutting back on fried foods, decreasing portions, drinking only water, no sodas, walking at a moderate pace for at least 30 minutes daily.
Everything in moderation so during his hometime David takes a break from his diet. Soon as he is back on his truck he starts his diet back up. He has also gone from a one year DOT medical card to a two year card over the last several years. He plans to start incorporating weight bearing exercises to help tone and build muscle. Congrats to this wonderful driver!!
Farouk Oluwole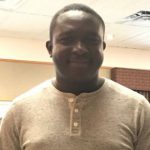 "The gratitude card exercise helped me during my Greyhound School training time. I also found the breathing exercise that my Rolling Strong coach taught very helpful."
Danny Smith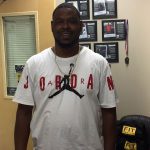 Danny has been concerned about his blood pressure for the past couple of months.  After meeting with his Rolling Strong coaches and following their advice, he has lowered his sodium intake, increased his water intake, and is exercising regularly.  As a result, Danny has lowered his blood pressure by over 30 points.
Marlon Chavez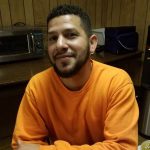 "I have lowered my blood pressure by 14 points and lost 3.5 pounds over the last 2 weeks by cutting out fast foods, walking 3-5 miles per day and increasing my water intake."
Sahr Filo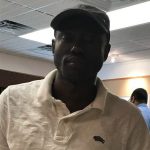 "I found the breathing exercise my Rolling Strong coach taught me at Greyhound School very beneficial."
Faycal Elkhattabi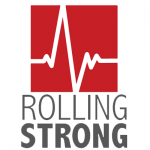 Faycal enjoys indoor soccer and basketball as regular exercise.  It allows him to be fit and to meet new people.  He does this on a regular basis in addition to workouts.  He does cardio and muscle training making it four days a week resultant in excellent readings.  hKeep it up!!
Albert Jefferson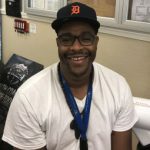 Albert has lost 4 pounds over the past 6 weeks.  Rolling Strong has helped encourage him to make small changes while out on the road.  He has replaced several of his greasy fried meals during the week with salads.  This small change has helped with his weight loss.  He also is drinking more water. Congrats to this driver.
George L.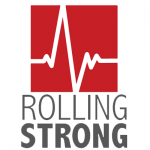 Since starting with Rolling Strong in December 2016, George has been more motivated to keep track of his blood pressure by checking in at least every other week with the Rolling Strong Wellness Coach. His systolic blood pressure has decreased by 15 points on average and he continues to take the small steps necessary to keep it under control by drinking more water and decreasing his caffeine intake.  He also watches his diet by making healthier choices in order to maintain a healthy weight.
Karen Dickson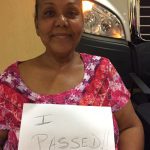 "After struggling to pass my agility test for the 2nd time, I did not think I would be able to pass because I could not fully get up on the trailer stand.  But, after working with my Rolling Strong coaches for a few hours, I was amazed when I finally PASSED!  Thank you Rolling Strong!!"
Trisha Hall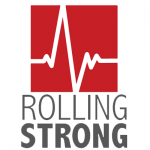 Trisha improved her quality of life by making lifestyle changes.  She cuts out sodas and drinks water infused with fruits instead.  She only eats whole grains and makes sure to cook over the road more than she eats out.  She even stretches while she fuels her truck.  She notices she has more energy than she did before.  Keep it up Trisha!
Sirrom Stergis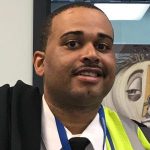 "I was able to use the 20 breath stress reduction breathing exercise our Wellness Coach offered during our training.  I found the exercise most helpful when I took breaks while doing my on the road training."
Cleveland Williams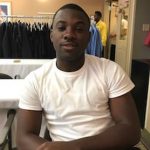 "I increased my water intake after learning the 8X8 rule during the W.E.L.L talk with our Wellness Coach during training."
Jose Ortegon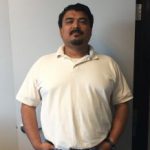 Jose lost 27 pounds in two months!  He is the safety manager here in Pomona and thanks Rolling Strong for helping him achieve this goal.  He accomplished this by talking to a Rolling Strong Health Coach daily on better options for food and drinks.  Instead of eating out, he uses the skillet and crock pot at work.  He also walks daily.  Congratulations Jose!
Isaac Chastain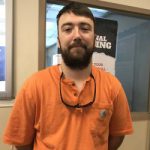 Isaac has lost 15 pounds since November with the help of Rolling Strong.  He has been making healthier choices while out on the road.  He stays away from eating too much truck stop foods.  Instead he eats homemade sandwiches, fruits, nuts, and tuna on his truck.  He also walks daily every time the truck stops.  These small changes has helped him lose weight effortlessly and he is still able to enjoy his favorite foods on occasion.  Great job.
Manuel Abron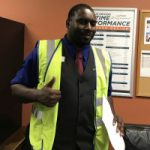 Manuel has lost 5 pounds since going through Greyhound driving school.  He learned with the help of Rolling Strong that cutting back on soda and drinking more water can help you lose weight while driving out on the road.  He uses a walking app to help him reach his 8,000 daily steps.  Combine his walking with a few diet changes and his efforts are paying off.  Congrats to this driver and his weight loss.
Patrick McCullough
Patrick has lost 15 pounds since driving a month ago.  He learned from Rolling Strong (Coach Ciara) that making small changes can help better his health while driving out on the road.  Some of the changes he has made are eating only when he is hungry, making better snacking decisions, and walking more each day.  Congrats…he is only starting his journey.  He wants to lose a hundred more pounds.
Gina Mayo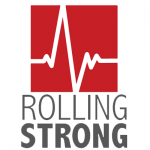 In the past month Gina got her blood pressure down to normal readings and lost 7 seven pounds.  This was even after a holiday.  Eating healthier and more exercise was the secret to her success.
John Meads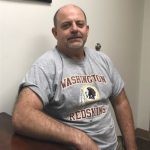 John has lost 3 pounds with the help from Rolling Strong.  He hopes to hit his goal weight by August of this year.  He has been eating salads and has cut down on fried foods.  John does not add any table salt or sugar to any of his food.  He watches his bread intake and mainly relies on fruits, veggies, and oatmeal to provide good fiberous carb intake.  He also has downloaded an app to make sure he gets his steps in each day.  Way to go..we are cheering this driver on to met his goal in August.
Robert Knowles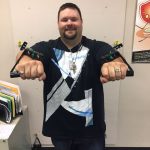 Robert has lost 44 pounds following the Rolling Strong program and using the FIT System for at least 30 mins each day.  He is so happy with his progress, and his goal is to lose another 60 pounds within the next year.  "Thank you, Rolling Strong, for making eating healthy and working out more convenient.  It's a life-saver!"
James Shepard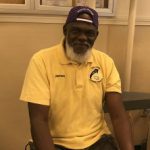 James had been driving 20 years and still has a 2 year DOT medical card due to his healthy habits out on the road.  He exercises regularly doing push-ups, fast walking at the rest areas and at the shippers.  He stays away from fast food and eats a lot of salads while out on the road.  He drinks super greens daily and water.  He found out with the help of Rolling Strong that he was still dehydrated and started increasing his daily water intake.  Way to go James!
Todd Miller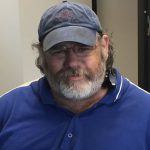 Congratulations to Todd Miller for losing 20 pounds!  He accomplished this by working out in the Rolling Strong gyms and changing up what he eats.  He chooses to eat tuna and salad with vinaigrette dressing and snack on rice cakes and fresh fruit.  He takes cinnamon and garlic tablets to aid in monitoring his blood pressure and blood sugar.  He also sets goals for himself for motivation.  Since he has lost weight, he noticed the differences in his energy levels.  Keep it up Todd!
Bruce Bennett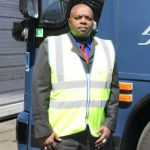 Bruce has stopped smoking!!  He has been smoke free for a month and a half now.  He checks in with Rolling Strong while at the terminal and it has helped encouraged him to get healthier and stop smoking.  The most important motivator has been that his son has asthma.  He is trying to be a good example for him and give him cleaner air to breathe.  Bruce is feeling much better, has more stamina, energy, and it is now easier for him to breathe.  He is also saving TONS of money!!!  Congrats to this great driver and we wish him continued success.
Elvis Doe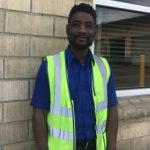 Elvis has lost weight again with the help of Rolling Strong.  He is down 2 more pounds.  He is always ready to check his bio numbers (blood pressure and weight) while in Dallas.  This helps keep him accountable for his health.  Elvis exercises daily and eats salads while driving out on the road.  He does enjoy juice/soda from time to time but always makes sure to drink plenty of water.
Janet Minor
"After talking with my Rolling Strong Coach Melanie, I have lost 3 pounds in two weeks. I've started tracking my calories and have increased my water intake.  In addition, I try to exercise as much as possible, whether it's parking far away at the truck stops or rest area, or just walking around my truck at all shippers or receivers.  I also use the FIT System on the truck.  My goal is 35 pounds lost by September.  I have also quit smoking and stopped drinking sodas.  Thank you Rolling Strong!!"
Helen Rinkins
"I lost 3 pounds this week by increasing vegetables and drinking water.  The scale wasn't moving & I was trying to lose, stopped soda, increased water but didn't realize that I wasn't eating many veggies until the Rolling Strong Coach asked if I was eating them.  So, I focused on increasing them and the scale started moving!"
Willstephnorm McCoy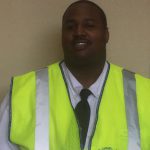 This driver brought his blood pressure down by 25 systolic points by drinking more water and lowering his stress after working with a Rolling Strong Coach during Greyhound school.
Cindy Vail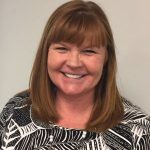 "After a bad fall and injury to my arm, I was on medical leave for 30 days.  After returning to work I still only had about 10% use of my arm and started physical therapy 2 days per week.  I was introduced to Melanie Willetts of Rolling Strong and I mentioned my arm hurting and that my knees were also beginning to hurt.  Melanie recommended an eating plan that could help reduce inflammation in my knees and arm.  On February 20th, I started the 30-day plan."
"At this time, I weighed the heaviest that I have ever weighed (now I know why my knees hurt so bad). On March 24, when I ended the program, I had lost 12 pounds and 11 overall inches.  My face was clearer and glowing, I was sleeping so much better, and my knees weren't hurting nearly as bad.  I have started drinking my coffee black, and eating less grains and sugars.  I'm still very conscious of what I'm eating and am hoping to do another 30 days soon."
Lorrie Hope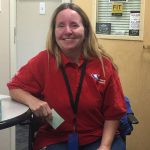 "I set my goal 10 pounds.  Lorrie, the Rolling Strong Coach at the Hutchins terminal, taught me the importance of water and so with the help of Rolling Strong I have gone down 6 pounds already.  ONLY 4 more pounds to GO to reach my goal!!!!"
Rhett Williamson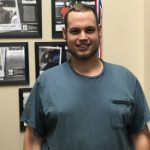 "Since January of 2017, I've managed to loose 39 pounds with the help of the Rolling Strong coaches.  I was on a low carb diet, then with the help of the coaches I was introduced to the FIT System.  Because of the changes in my diet, my sleep patterns have changed for the better.  I stopped having cravings for sugar drinks and anything to do with sweets.  Know your worth, and go out and get your worth."
Madeline DePaul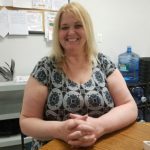 "Since working with the Rolling Strong Health Coach, I've lost weight and feel more energetic.  I love the accountability, the coaching, taking small steps to change, and learning how to de-stress with breath."
Jeannie King
Jeannie has lost 3 pounds with the help of Rolling Strong.  She is drinking more water each day with lemon and juicing on the truck.  She has started adding exercises each day to help burn calories and build strength.  Jeannie does 10 push-ups, 2 leg lifts, and 2 reps of 30 jump rope.  To keep her mental clarity and a clean spirit she reads her Bible 2 times a day.  She says this helps her to stay consistent with her exercises.  Congrats to this wonderful driver on making small changes to help better her health.
Mark Capps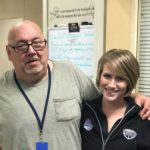 "Rolling Strong impacted my life by encouraging me to change my eating habits and to start walking more.  I purchased the FIT System back in March of 2016.  I've lost 49 pounds and my blood pressure has dropped 25 points and I've managed to keep it down.  Through my fitness routine I've managed to strengthen my knee, cleared my lunges, and I'm not concerned about getting sleep apnea.  At my age those are good numbers."
Jennifer Farerlie
Jennifer has lost 11 pounds with the help of Rolling Strong.  She learned during orientation that making small changes can add up.  She has lost around 2 pounds per week while out on the road.  She is adding exercise and drinking lots of water while driving.  Every opportunity she gets, Jennifer tries to get down from the truck and run around it.  She started out eating veggies to help add a good source of fiber into her diet.  Check out Jennifer's before and after photo…Way to go!
Antonio Sailes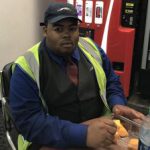 Antonio is committed to improving his health with the help of Rolling Strong.  He has not smoked since Jan.13, 2017!  He bought a pack of cigarettes while out on the road and smoked half of the pack and then gave the rest away.  He hasn't picked up another cigarette since that time.  He is now focusing on changing his diet and is feeling more energetic each day.  We are so proud of this driver and wish him continued success!
Brenda Johnson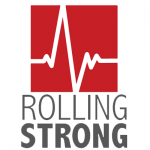 "I have been with the Rolling Strong telephonic coach since Oct 2016.  With coach Kristy's encouragement, I have lost 40 pounds and a total of 26.5 inches.  I'm going to do my first 5k race in May and I would like to thank Kristy and Rolling Strong for all the support on my journey to lose wieght and to get fit."