Many drivers across the country, take the time to exercise and work towards better health. While walking, running and bodyweight strength are are great options, some drivers have discovered innovative exercise equipment and tools to enhance their efforts, Consider investing in one or more of the options listed below, to increase your fitness and add variety to your routine. Here are a few pieces of equipment to consider as you pursue good health on the road:
RS Flex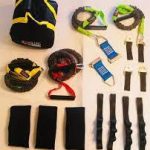 Many drivers already use the Flex system, a collection of resistance bands made specifically for use in a big rig. With various tensions, the flex system allows you to work different muscles groups and increase the resistance, by changing the cord, as you get stronger. Connect the bands up high or down low to allow everything from bicep curls, to chest press, to single leg squats. The kit stores neatly in a small bag for easy storage. Use inside or outside the truck. The Rolling Strong website offers suggested workouts.
The DB Method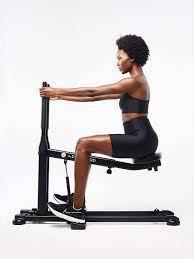 $229
This unique, compact exercise machine allows for a full body strength and cardio session. One Rolling Strong driver places it between the seats in her cab during use. Mainly focused on the squatting motion, the user works the muscles while increasing heart rate. The machine folds flat and can be used in or out of the truck. The website offers videos for suggested workouts.
OYO Personal Gym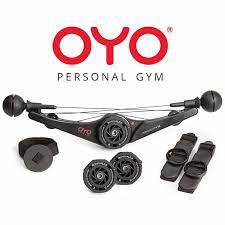 $129 sale, $149 full price
This portable strength training device is compact and versatile. At just 2 lbs, it offers a full body workout with up to 25 lbs of smooth resistance. Adjust the OYO to work your upper and lower body and your core. Great workout videos are available on the website and YouTube. Tuck it away for easy storage. Appropriate for indoor or outdoor.
Loop Bands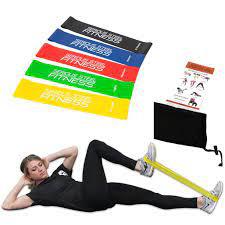 $13.00
These bands come in 5 different tensions and store neatly in a small pouch. Throw them in a purse, backpack or glove compartment. Use the light green band to work your triceps, the black band to work your glutes and the red band to work your hamstrings. You can even use two bands at the same time-one working your arms the other your legs. There are literally hundreds of workouts you can do with these little bands. Check out this video for a few ideas. Use these bands both inside and outside.
Gym Chair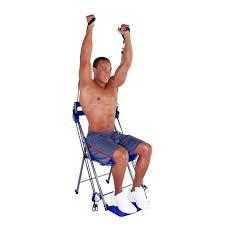 $149
This innovative "chair" is equipped with a variety of attachments for resistance bands (included) that allow you to work all your muscles while seated or standing. The chair accommodates those with back issues by encouraging an upright posture while in the seated position. Work your entire body with this compact and foldable device that is easily stores flat. Exercise suggestions included and videos are available online. For use indoors or out.
Foldable Bike Various prices from $250+
If you haven't seen drivers on these bikes, keep an eye out. Foldable bikes are all the rage with truckers and everyone else. Prices have come down making them an option for those who want to get out in nature, away from truck stops, or want to explore the city and get a healthy meal. Most bikes fold to a compact square that fits behind a seat. Foldable bikes have smaller wheels, which means you won't be riding 100 miles but jaunts of 5-20 miles are pleasant and doable. Get a great workout and take a break from walking or running. Some bikes accommodate larger bodyweights, like this one that goes up to 300 lbs.
Rebounding is a great weight bearing exercise that will get your heart pumping. Run and jump on these mini tramps to get some of the benefits of running without as much stress to your body. There are many workout options online to keep things interesting or to add more intensity. Opt for a rebounder that fold flat and stores away easily. Allows for a great indoor workout when it is raining or snowing.
All of these exercise equipment options are recommended by drivers who use in the Rolling Strong Wellness Program. These are just a few of the cool pieces of equipment that could work for your lifestyle. Check them out and chat it up with the guy or gal on the foldable bike. They will inspire you!
by Christy Coughlin