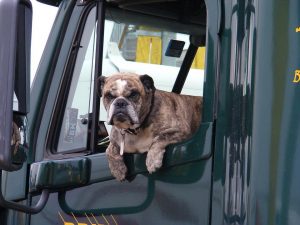 I talk with several OTR drivers who love having their dog along for the ride. Bringing Fido, in your truck can provide much needed company, lots of entertainment, and make the truck feel more like home. If you are considering adopting a dog or bringing yours along, take some time to prepare for driving with a dog and make sure it is the right decision for you and your pet.
Some dog breeds require lots of exercise in order to be happy, healthy and well behaved. Sporting breeds generally fit into this category. Assess whether you will be able to provide enough exercise for your dog, especially if they are young. There is a saying that a tired dog is a well-behaved dog. Your dog should be socialized with people and other dogs. Anti-social or aggressive dogs are not good candidates for the road.
Time in the truck may be stressful, at first, for some dogs. It is best to acclimate them to the environment and take them out for shorter drives, to help them get used to the truck and the feeling of driving. Teach them the behaviors you expect while you are driving. Dogs are prone to motion sickness. It is best to know how your dog handles the road before you take off for a long drive.
10 Considerations of Driving with a Dog: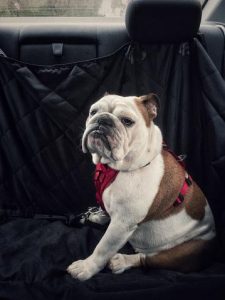 1. It is recommended, and in some states mandated, that dogs be secured in a harness or a secured crate when driving. Dogs, like humans, need to be protected in case of an accident. There are many comfortable harnesses and crates that attach to your seatbelt, and prevent your dog from becoming a projectile. Blankets or a bed can keep your dog comfy for hours.
2. Your dog should be updated with his physical and all vaccinations. Communicate with your vet about your desire to bring your dog along and request a copy of his medical history and vaccination record. Your dog should be fully immunized prior to joining you on the road. Have your vet's information entered in your phone. A microchip, inserted under the skin, can be a lifesaver if your dog were to get lost. Emergency vets are located all over the country, in case you need urgent care.
3. Your dog should wear a collar at all times with a current tag listing their name, and your current mobile contact information. Bring along an extra tag in case of loss.
4. Dogs love consistency and a safe space to call their own. A daily routine is important to keep your dog happy and well behaved. Bring along his favorite bed and a blanket, so he knows he has a home on board.
5. Dogs heat up faster than we do so ensure they are at a comfortable temperature, with adequate water. It is best to bring along water to avoid exposing him to contaminated water.
6. Most dogs need to stop for a bathroom break every 3-4 hours, depending on the size, breed, and age of the dog. A very young, or very old dog, may need more breaks. A good exercise session, during the break, is key to keeping your dog happy on the road. Retrieving is a great way to stimulate your dog and give his body some movement. If your dog won't retrieve, join him on a good walk, which will benefit both of you. Practice some training with voice and hand commands. Most dogs love to work, and training is great way to bond.
7. Dogs should not be left alone in the truck on warm or hot days. The temperature in your cab can heat up very quickly and impact your dog almost immediately. It is illegal in some states to leave your dog unattended in your vehicle.
8. Stock your truck with all the supplies your may need: medications, toys (indoor and outdoor), towel, wipes, poop bags, adequate food, water, treats, food and water bowls, leashes, collars, shampoo, nail clipper, brush, ear cleaning supplies, and clothing for small dogs. Consider bringing some brain engaging toys for inside the truck. There are toys that allow you to tuck a treat inside to get your dog using his tongue and paws to extract it.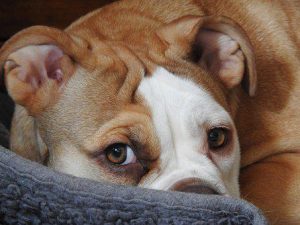 9. Research dog-friendly restaurants and hotels along your route. Take note of green spaces, along the route, that will allow for a good walk.
10. When walking your dog keep an eye out for things they may eat on the ground. Eating random items may cause illness in your dog and a mess in your truck. Watch for glass and other sharp items that may injure your dog.
11. Understand dog behavior when introducing your dog to another dog. Many dogs have not been properly trained or socialized and may attack or injure your dog. Be cautious with other dogs.
Driving with your best friend can be a great experience for both of you. Take the time to prepare before you head out on the road, and keep your dog happy, healthy and safe.
by Christy Coughlin