As we head into summer, take advantage of the opportunities to exercise outdoors – feel the sunshine on your skin, the wind in your face, and even the cool water on your toes. With over 400 National Parks in the US, there is likely to be one near your home or along your route. Hiking as exercise is a way to take in these parks and train your body and your brain. From Maine, to North Carolina to Florida to Arkansas, to Tennessee, to Texas, Colorado, Nevada, California, and in between, there are thousands of dirt paths beckoning you to come explore. Click on AllTrails in the Rolling Strong application to check out trails near you.
Like all cardiovascular exercise, hiking will:
Improve your heart and lung health

Lower your blood pressure

Reduce your risk of stroke, diabetes, and certain cancers

Improve your mood and lessen the incidence of depression and anxiety

Assist with weight loss or weight management
While most of our exercise is deliberate-climbing on the elliptical, walking for 30 minutes on a break, or lifting in the gym hiking is more spontaneous and unplanned. You may find yourself climbing over a fallen tree, jumping a stream, balancing on the rock trail, or breathing heavy as you wind up the switchbacks. Every hike is a bit different, even if you have done it before. Depending on the season, the colors will change, flowers will vary, the flow of the water may be high or low, and the weather is never certain. Before you know it, you have hiked for 2 hours, and are exhausted (in a good way). Bring your fit dog along, and get more than a few laughs along the way.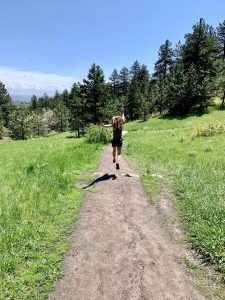 Additional benefits of hiking include:
Improved balance

Stronger leg muscles, and joints

Improved core strength and posture

Enhanced bone density due to the weight bearing nature of hiking

Opportunity to develop social bonds with family or friends

Reduced stress

Improved self-confidence as you scale to the top
Plan a hike or two for June. Check out AllTrails to pick your trail. Trails are rated easy, moderate, or difficult. Check the length of the trail and whether it is a one way or a loop trail. Read hiker reviews to get a feel for what others have to say. Read the directions to the hike and study the route. Some trailheads won't show on GPS. Screenshot your route in case you lose service on the hike.
While most hiking is safe there are always precautions to take when headed into nature:
Plan to walk earlier in the day. You will get a spot in the parking lot, beat the crowds, and avoid the hottest point of the day.

Pack more than enough water for your hike. If you get lost, you will need extra. Consider the temperature.

Bring a compass and the trail map, to help navigate in case signage is sparse.

Load up on sunscreen before you go, and reapply while out. Wear sun protective clothing including a hat, sunglasses and a long sleeve.

Bring snacks or even a meal if you plan to be out for several hours. Make sure to bring something with protein and healthy fat like an RX bar or a sandwich with fruit.

Be aware of wild animals that are regularly seen on your trail. Bear bells notify bears that you are in the area, which is their cue to avoid you.

Know proper behavior if you do encounter wildlife.

Pack up all that you bring in, leaving no trace (that includes banana peels, wrappers and Kleenex).

Bring a small first aid kit. Nine times out of ten you will cut yourself!

Wear sturdy hiking boots that have a hard toe. This will allow you to grip the rocks and uneven surfaces and avoid hurting your toe every time you catch it on a rock.

Check the weather before you leave and be prepared for the storm that may quickly roll in.

If you hike with your dog, make sure to pack for her too-water, food, waste bags, and even balm for her paws
Plan on taking photos of the scenery, your hiking partners, and the young sapling that is perfectly formed. Capture a video of the roaring river, the meandering path and the view from the top.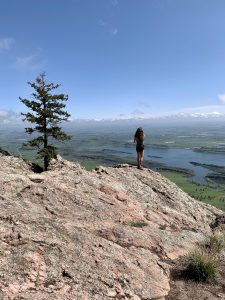 Join the nature lovers across the country and enjoy one of the many dirt paths this country has to offer. Share this time with friends, family and your dog. Teach your children the joys of healthy time outdoors and to treasure our natural spaces. Get out for a hike!!
by Christy Coughlin
[su_spacer]
[su_divider top="no" divider_color="#000000″ margin="40″]
[su_youtube_advanced url="https://www.youtube.com/watch?v=tUbzOMMGB5g" rel="no" fs="no" modestbranding="yes" wmode="opaque"]