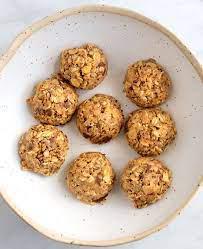 Try making peanut butter bites, a healthy snack you can freeze and enjoy for a few weeks. These bites take about 10 minutes to make, contain only 5 ingredients, require no baking, and dirty only one bowl. Many store bought snacks are loaded with unhealthy fats, sugar, and mysterious, chemical ingredients. Making your own snacks allows you to use healthy ingredients, limit the sugar and bad fats, and save money on snack foods.
These bites are made with peanut butter, which contains healthy fat and protein, oats which offer fiber, and flax meal which has healthy fat, fiber, and protein. The honey and chocolate chips will satisfy your sweet tooth while still delivering a healthy, satisfying snack. With all the protein and healthy fat, these bites will fill you up get you to your next meal.
I recommended using peanut butter with only one ingredient-peanuts (maybe a little salt too). Peanut butter with added oils and other mystery ingredients, are not as healthy as plain old peanut butter. Most stores sell the healthier version.
Peanut Butter Bites Recipe
Ingredients
1 cup creamy peanut butter

1 1/2 cup old fashioned oats

1/4 cup honey or agave nectar

1/2 cup flax seed meal

1/2 teaspoon vanilla

1/2 cup mini chocolate chips (optional)
Mix all the ingredients in a large bowl. It will make a thick mixture. Use your hands to form 20 small bites. Place on a large plate. Freeze the bites on the plate, so they don't stick to each other, before moving to a storage container. The frozen bites will last for weeks in the freezer. Feel free to change up the recipe, adding dried fruit, sprinkling in some coconut, or using almond butter as the base.
Enjoy a bite when you need a little something to get you to lunch or dinner.
by Christy Coughlin
[su_divider top="no" divider_color="#000000″ margin="40″]
[su_youtube_advanced url="https://www.youtube.com/watch?v=qipnkx-pqcs" rel="no" fs="no" modestbranding="yes" wmode="opaque"]