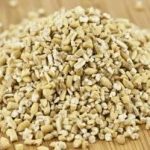 Oatmeal, specifically the slow cook variety, is a great meal for drivers. Make a large batch to last the week. As the weather cools, slow cooked oatmeal, made with steel cut oats, is a perfect meal for a cool morning. Rather than the runny, highly processed oatmeal, slow cooked oatmeal is similar to a creamy porridge. Make it with a combination of water and milk to make it even creamier, and to add a bit more energy and protein.
Steel cut oats, used to make slow cooked oatmeal, are minimally processed unlike regular oatmeal. Without processing the fiber is retained. The fiber, in slow cooked oatmeal, has so many benefits:
Fills you up and keeps you satiated for hours

Regulates your blood sugar

Lowers your LDL (bad cholesterol)

Keeps you regular

Improves your gut health
Make a large batch of slow cook oatmeal at home or in the crockpot on the road. You can simply heat up a portion each morning, add a few healthy toppings, and enjoy a tasty, filling, healthy breakfast. A large batch will last a week on the road.
Ingredients for Slow Cooked Oatmeal:
4 cups liquid (I suggest 2 cups water and 2 cups milk like oat, almond, soy or milk of your choice)

1 cup steel cut oats (you can find this at Walmart or any grocer)

¼ tsp salt

1 tsp vanilla

1/4 cup turbinado sugar (optional)
Directions:
Use a large non-stick saucepan to heat the water/milk combination, along with the salt, covered, on medium heat, just to boiling. Milk will boil over very quickly, so keep an eye on the pot.

Add the steel cut oats as soon as you see a few bubbles begin to form.

Stir the oats into the liquid. Let a few bubbles form again.

Turn the oatmeal down to a very low simmer and set your timer for 20 minutes. Stir a few times as the oatmeal simmers.

Turn off the heat and stir. Do not overcook. Oatmeal will be a bit runny.

Mix in the sugar, and vanilla.

Store and cool in a large container, or small servings size containers to take on the road.

Warm up a portion of your oatmeal each morning, add a bit more liquid to make it creamier

Eat it plain with fruit on the side or top with some healthy additions.
Add a few healthy toppings to increase the nutrition of your slow cook oatmeal, which can vary your breakfast each morning. Healthy adds to consider:
Frozen fruit like raspberries and blueberries, blackberries (defrost before adding) for vitamins, minerals, antioxidants and more fiber
Sliced banana- potassium

Hemp hearts-protein, fiber and healthy fat

Ground flax meal- fiber and healthy fat

Chopped nuts- fiber, healthy fat, and protein

Peanut butter-healthy fat, and protein
This nutritious, satiating breakfast will keep you filling full until lunch and help you control your blood sugar and cravings. You will feel more in control of your hunger all day and look forward to this warm, comfort food every morning.
by Christy Coughlin, Wellness Coach
[su_divider top="no" divider_color="#000000″ margin="40″]
[su_youtube_advanced url="https://www.youtube.com/watch?v=SyOv0IUIWIg&t=7s" rel="no" fs="no" modestbranding="yes" wmode="opaque"]