What Is SUP
Stand Up Paddleboarding (SUP) is one of the fastest growing sports in the world. According the The Outdoor Foundation, over 3.68 million people participated in this popular water sport in 2020, more than 3 times the number from 2011. Some SUP fans equate it with walking on water. You will see SUPs everywhere-oceans, lakes, rivers, ponds, creeks and reservoirs If you haven't seen SUP on a body of water near you, it's coming!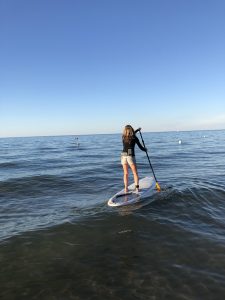 "I like SUP because it is great exercise, but it is also a nice way to spend time with someone special or take a break from the stress of the day. The quiet, out on the water, with clouds overhead, is relaxing and helps me appreciate nature." an SUP enthusiast.
SUP is enjoyed by kids up to active aging. With a little guidance, a lesson or online tutorial, almost anyone can be up and paddling within a few hours. SUP offers the opportunity to cruise on flat water, surf small swells, strike a yoga pose, explore the coast while on vacation, fish, paddle while your child (or dog) hitches a ride, and even test your fitness at an SUP racing event. Most open water destinations now rent paddle-boards for your week long vacation, the day, or even for a few hours.
The popularity and growth of SUP is not surprising considering all the benefits:
Accessible to all body types, ages and athletic abilities
Easy to learn
Low equipment requirements and costs (board, paddle, & safety equipment)
Portable
Low time commitment
Whole body workout
Dynamic balance challenge
Low impact
Bilateral workout
Core muscle workout
Cardio workout
Stress relieving
Time in nature away from technology
Social activity
It's a Workout
A recent study from the American Council on Exercise concludes that SUP is an effective core workout and provides a significant balance challenge, amongst other benefits. The low impact nature of SUP, makes it a great full-body workout option for most. SUP works not only your core but your chest, arms, back and legs. Paddling is a cardiovascular workout where you can burn anywhere from 300-700 calories per hour, depending how hard you paddle. Try core exercises like bicycle, plank, side plank, bridge and superhumans while out on the water, to challenge the muscles like never before.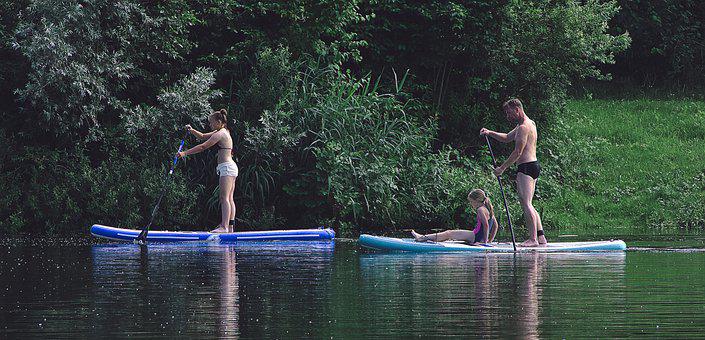 The Basics
It's best to start your SUP experience on a smaller body of water with calm conditions, warmer water (70 degrees), and an experienced partner. Falling in is part of the fun so be ready to get wet as you learn.
Adjust the length of the paddle on dry land. With an outreached arm, your wrist should bend over the handle. You will hold the paddle with one hand on the handle and the other about hip height.

Mount the board on hands and knees. Paddle from your knees to get the feel of the balance.

Move to standing from hands and knees to balls of the feet, take the first stroke as soon as you stand. It is easier to balance while you are moving.

Use a parallel stance on the SUP with weight distributed evenly through each foot.

Maintain an upright posture with a slight bend in your knees, and relaxed hips.

Practice falling safely, pushing the board away from you.

Transfer the power from your legs, to your core to your straight arms with each stroke. Connect each stroke to the next.

Practice turning in both directions.
Safety First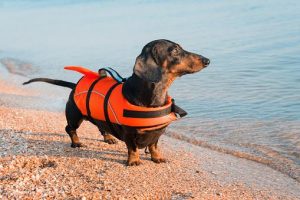 SUP safety is an important consideration before you head out on the water. Only individuals who have a good swimming foundation should try SUP. Paddleboards are considered "vessels" when used outside swim areas, per the U.S. Coast Guard. Wind, waves and currents can quickly take you away from shore, and out of the sight of others. Children are especially vulnerable to losing track of the shore.
Safety issues to keep in mind include:
Check the weather for the day, and make sure to include the water and air temperature, wind direction and speed, currents, and wave conditions.

SUP requires a life jacket, sound producing device (whistle) and a Iight

Always attach the boards ankle strap to your leg

SUP with another person or stay close to shore with a land-based spotter

Understand and recognize your physical limits

Pay attention to rules around SUP and boating safety. Some lakes restrict SUPs to designated areas away from boats.
Invest in a Board
An all-around board, that all members of the family can use, is the way to go. SUP is so mainstream that you can find boards at Walmart and Amazon. Consider the type of water (flat or wavy), body-weight of the users, and experience with paddle sports. Prices range from $250-$1,000 for an entry level board. The inflatable SUPs, are a great entry level option with lower costs, easy storage and transportation. Inflatable SUPs are super durable, made of material similar to that of a white water raft and are easy to inflate in 5-10 minutes, with a hand pump. You can bring it on vacation and even hike with it up to a mountain lake.
Boards are equipped with a soft pad for standing in comfort, and to help prevent slipping. The pad works well for yoga and is comfortable for relaxing in the sun. Pick a board with elastic straps to hold a few essentials like sunscreen, a hat, snacks, or safety items. A leash tethers the board to your ankle.
Whether you live in California, Texas, Florida, Colorado, Maine or Illinois, chances are there are opportunities to SUP near your home. This summer is the perfect time to rent a board, discovery the joy of being out on the water, challenge your balance, work your whole body, and possibly indulge in one-on-one time with someone special. Once you try a SUP, you will become a part of the rage.
by Christy Coughlin